Svartisen, North Norway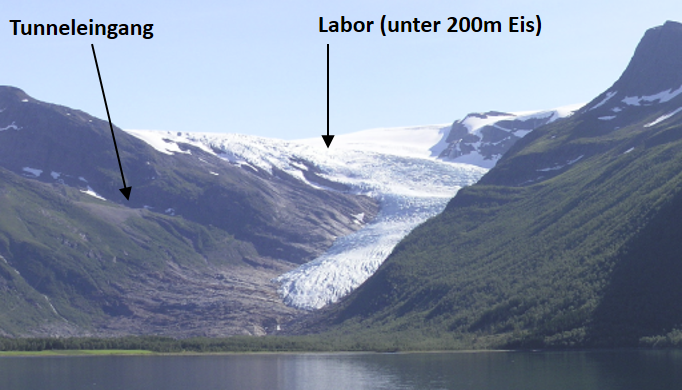 The western part of the Svartisen Glacier (Vestre Svartisen) in northern Norway is the second largest glacier in Norway with an area of approx. 220 km², almost three times the size of the largest Alpine glacier (Aletsch Glacier, Bernese Alps, approx. 80 km²). With a latitude of about 66.6° it is located just north of the Arctic circle. The actual research area - the outlet glacier known as the Engabreen - is located on the north-western edge.
Since the 1990s, the Engabreen has offered a globally unique infrastructure from a glaciological perspective: a subglacial laboratory operated by the Norwegian Water Resources and Energy Directorate (NVE). A tunnel system in the bedrock provides access to the glacier bed. Since 2014, the Bavarian Academy of Sciences and Humanities (BAdW) has been carrying out gravimetric investigations at the glacier sole in cooperation with the NVE and the Norwegian University of Life Sciences. For these investigations, physical access to the glacier bed is not required, since the tunnel system makes it possible to carry out high-precision measurements of the mass transport of the glacier system under constant environmental conditions.
Impressions of the glacier laboratory and the gravimetric measurements can be found in the subglacial blog or in Akademie Aktuell, issue 4/2014.